I know it has been a while since I last posted here. However, upon hearing about Chef Jason's win I just had to take take some time out of my busy schedule to congratulate him on his win and also share his success story with you. Chef Jason is a member of the
St Kitts and Nevis travel forum
at Discover St Kitts Nevis Beaches who has been extremely helpful in answering questions posted by persons thinking about visiting Nevis. Below is the press release that tells about Chef Jason's win at the 7th Annual USMEF International Culinary Competition.
___________________
Oualie Beach Resort Chef Jason Bishop wins the 7th Annual USMEF International Culinary Competition in Mexico City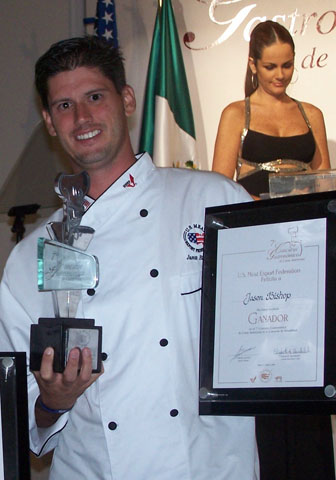 NEVIS, West Indies. (August 8th, 2006) – Executive Chef Jason Bishop of
Oualie Beach Resort
, Nevis is an award-winning Caribbean Basin chef in the 7th International Foodservice Competition sponsored by the U.S. Meat Export Federation (USMEF).
The final competition was held in Mexico City on August 2nd at the famous Le Cordon Bleu cooking school. Chef Jason Bishop entered two original "home chef" recipes featuring: Beef Bottom Sirloin Tri-tip (roast or steaks) and Pork Loin Roast/Chops. Competing chefs were required to use readily available ingredients from the island and cooking styles that could easily be repeated in Caribbean kitchens.
Moments before the contest began, the chefs were assigned one of their two entered recipes and allowed a maximum preparation time of two hours. Chef Jason Bishop prepared a Caribbean-inspired dish, " Carib beer marinated beef Tri-tip with charred tomato salsa," accompanied with local pumpkin slaw and Christophene. The resulting dishes from all finalists were evaluated by a panel of five judges on the merits of originality, versatility and the ease of adaptability to a home Caribbean cook as well as the kitchen skills and sanitation of the competing chef. Chef Jason's winning recipe will be used in various promotions this coming year, and will also be featured in a consumer publication to be developed by USMEF.
In addition to a $1,000 U.S. cash award, Chef Jason will receive a nine-day, expense-paid trip to tour venues within the U.S. food, wine and meat industries. He will be on tour from September 19 – 27, 2006 with stops in New York City, San Francisco and Napa Valley. Chef Jason will also spend two days in classes at the Culinary Institute of America's Greystone site in Napa Valley studying Asian and Spanish cuisines, plus tour numerous wineries, and eat at the best restaurants.
" Chef Jason's winning performance is proof positive that the little Island of Nevis and Oualie Beach Resort can compete successfully with the best of the Worlds eating establishments. We look forward to him leading a team of Nevis chefs to the Taste of The Caribbean Competition in June 2007," says John Yearwood, Managing Director of the Oualie Beach Resort, Nevis.
Chef Jason comments, " This experience has given me the opportunity to exchange ideas with other talented Caribbean and Mexican Chefs. I plan to share these ideas with our Nevis Chefs in order to help forge a formidable Nevis Team to compete internationally. I look forward to also working closely with our agricultural department to share ideas on how to raise the standard of local meat production."
Amicia Mussenden
Your Online Guide to St Kitts and Nevis
http://www.discover-stkitts-nevis-beaches.com